In the world of talent management, the new employee orientation process is where you make your first impression to new employees. Key Survey helps you keep this process clean and simple by moving the onboarding of new hire data to a digital environment, on the cloud where that information can be stored and integrated into other business systems across the enterprise.
HR Portals
Automate accountability with tasks and workflow
Centralize data collection and document management
Key Survey offers the technology and experience developing enterprise portals to organize all HR operations. In one centralized interface your solution can share and track all employment documents surrounding the onboarding process, administer new forms to existing employees and run reports on the data that is being collected. Key Survey will even notify you when a document or task needs review with automated alerts and data workflows configured to your specific process. Key Survey also gives you limitless options to assign access level and permissions so you can be sure the right people have access to only the forms and information relevant to their job role.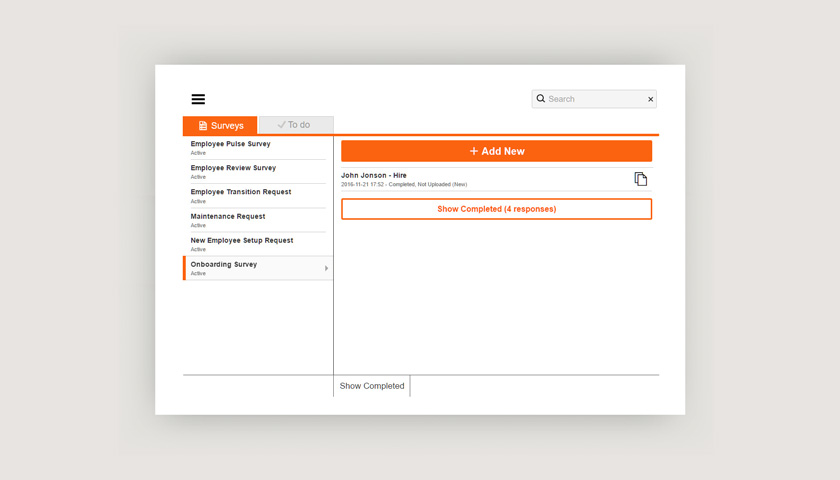 HR Employee Dashboards
Increase visibility of internal programs and corporate culture
Track and measure employee morale and productivity
For large organizations, monitoring and tracking employee data is critical to understanding and improving internal processes and the overall corporate culture. Employee satisfaction, loyalty, productivity and efficiency are all areas of internal focus that companies rely on Key Survey to track and measure. Dynamic drill-down dashboards give you a highly visual look in to the various sets of collected data so you can gain the insights you need and react to changing conditions fast.
HR Solution Implementation
Ensure a flawless solution rollout
Lean on Key Survey's world-class support team when questions arise
Key Survey's team of experts will ensure your HR solution is rolled out flawlessly. We get in the trenches with you early on during the development stages so when it comes to implement the solution our team is well versed on the desired outcomes. Key Survey's core technology is extremely flexible, meaning the software adapts to your existing process and promotes employee adoption with a straightforward interface that requires minimal to no training at all. Key Survey is well known for having the best customer support in the industry, so when questions come up you can be confident our support staff will be there to provide you with the answers or guidance you need when you need it.