Take your web and mobile feedback programs to the next level with an Enterprise Feedback Management (EFM) solution that has the power, flexibility and reporting intelligence tools your business demands.
With Key Survey, you get the industry's most robust data collection platform that offers the advanced features you need to collect, manage and leverage enterprise feedback data all inside a single solution. The core technology is modular, meaning you can configure the exact EFM solution you need with the powerful reporting, integration and workflow functionality you need on the backend.
Closed-loop Execution
Automate task management
Streamline the flow of information with advanced data workflow
Enhance collaboration across the entire enterprise
Key Survey is a leading enterprise survey platform that gives you a complete view into your customer and employee data collection operations. The advanced set of features lets you implement a truly closed-loop solution that improves collaboration between the various people and programs involved in the process. Automate the flow of data, tasks management, and workflow sequences to elevate speed and efficient of your entire enterprise-wide feedback program.
Controlled Access and Single Sign-On
Ensure the security and integrity of your data
Gain total control of who can see what
Keep a centralized access point to corporate processes
Maintain the integrity and security of your feedback data. Key Survey lets you define access levels and permissions ensuring the right people have access to the right information. You have complete control over who can access, edit and distribute surveys, as well as, who can view and share survey results down to the individual user level. Single sign-on and LDAP integration allows your users to log in once from your corporate site and automatically be logged into the Key Survey application.
Corporate Branding and Private-labeling
Brand your solution with existing logos, colors and styling
Give your solution its own unique URL
Completely customize survey layout and backend functionality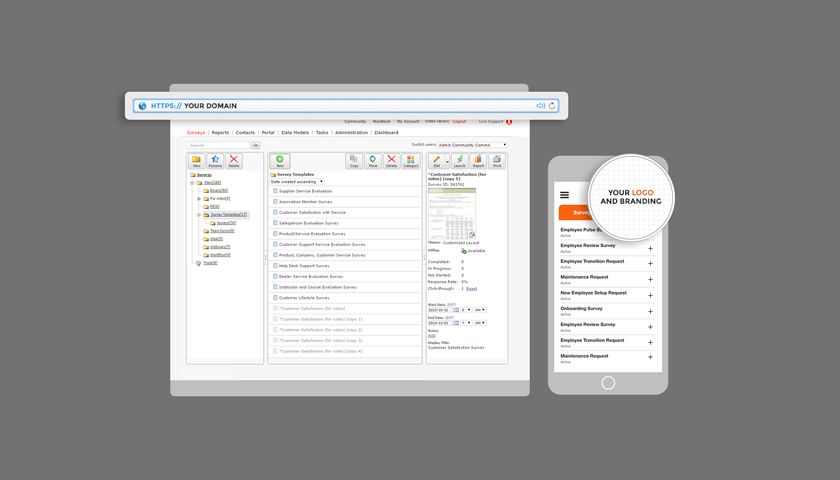 Key Survey lets you present your EFM solution as if it were your own proprietary application. Advanced customization features enable you to completely customize the layout and look and feel of your surveys, reports and domains where your EFM solution will live. Maintain brand consistency with options to use your existing CSS, host your solution on a unique URL, even create custom skins for different departments.
Custom Reports and BI Dashboards
Multiple levels of reporting capabilities
Configure reports to track the data you care about
Drill down into or compare different sets of data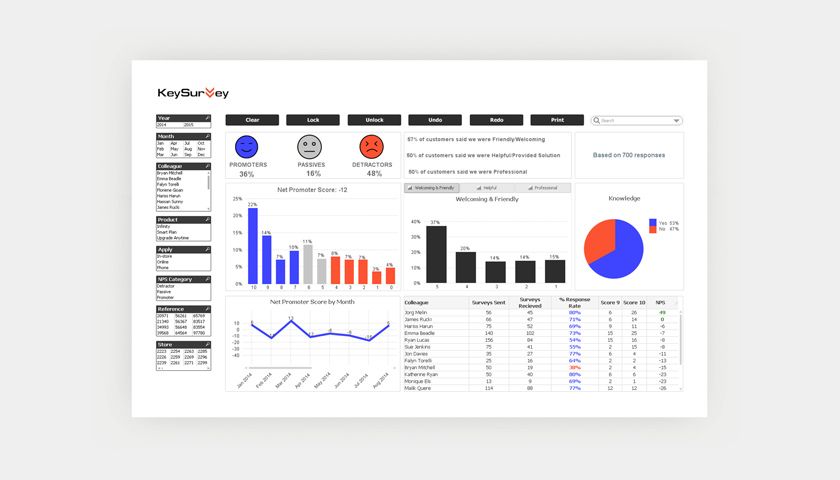 As fast as you can think up questions, Key Survey can provide you the answers to them. Choose from a variety of reporting interfaces to get the business intelligence metrics you need, fast. From simple charts and graphs to dynamic drilldown BI dashboards, Key Survey offers the power in reporting you need to amaze management and drive more insightful business decisions.